Introduction
One Art by Elizabeth Bishop is one of her most frequently anthologized poems. It first came out in The New Yorker in 1976. Elizabeth Bishop also made this poem a part of her book, Geography III. One Art by Elizabeth Bishop is a part of the syllabi of various universities. What makes the poem full of appeal is its unique theme and straightforwardness. Punjab University and Sargodha University recommend One Art by Elizabeth Bishop as part of the English syllabus for BA/ADA students. This article, One Art by Elizabeth Bishop – Summary Analysis Questions, will assist the students of BA/ADA. It will also facilitate teachers looking for reliable material on the poem One Art by Elizabeth Bishop.
Elizabeth Bishop
Elizabeth Bishop was born on February 8, 1911, in Worcester, Massachusetts, America. She was a famous poet and short story writer. She was only eight months old when her father, William Thomas, passed away. After her father's demise, her mother developed a mental illness. Therefore, Elizabeth Bishop spent her early childhood with her maternal grandparents. Later, her paternal relatives, who were very wealthy, gained her custody. She, however, never felt at ease with them. From 1949 to 1950, she served as a Consultant in Poetry to the Library of Congress. She bagged Pulitzer Prize for he poetry in 1956. She also won Neustadt International Prize for Literature in 1976. One Art by Elizabeth Bishop contains an autobiographical touch. The poet enumerates various losses she experienced during different phases of her life. Elizabeth Bishop died on October 6, 1979.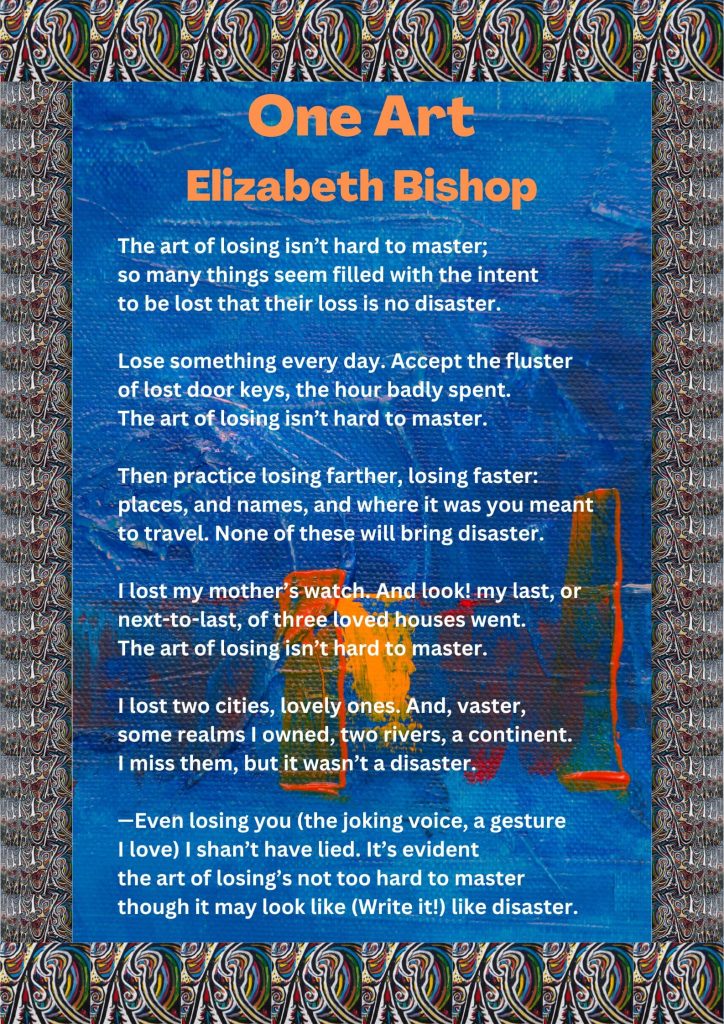 Text of the Poem One Art by Elizabeth Bishop
Summary of the poem One Art by Elizabeth Bishop
Introduction
One Art by Elizabeth Bishop is a very interesting poem. The poem is based on a different idea and philosophy. Generally, we become depressed and sad at the loss of things that are dear to us. The Poet is of the view that life does not come to an end with the loss of things. She says that losing things and facing boldly the loss is an art. It is not difficult to master this art. If we succeed in mastering this art, we can attain peace of mind.
General Human Attitude towards Loss of Things
The poet says that the art of losing is not as difficult to master as we believe. She is of the view that we may feel that certain things are of such great importance that we do not want to lose them. The idea of losing these things creates these things seems to be a disaster.
Elizabeth Bishop's Attitude towards Loss of Things
Elizabeth Bishop thinks that no loss is so great as to be intolerable. It is the response of human beings that makes a loss look like a disaster. She believes that even if we lose such things as are very dear to us, it will not cause any catastrophe.
How to Master the Art of Losing?
In the poem, One Art, Elizabeth Bishop suggests that we should start losing things of little importance such as door keys. We should tolerate the anxiety of this loss. If we have to spend an hour badly, we should accept its frustration. We may also forget the names of the places and people. These small losses will prepare us to bear bigger losses. Then we should keep losing things regularly. Gradually, we shall develop the habit of losing things.
Elizabeth Bishop's Losses
Elizabeth Bishop says that she lost the watch that was a token of love from her mother. She lost two cities that she liked. She also lost the two houses that were dear to her. But no disaster occurred. Finally, she addresses her lover. She says that even if she has to lose him for some reason, it will be no disaster, though it may look so.
Conclusion
Elizabeth Bishop wants to say that we should remain ready to face losses in life. We should hope for the best, but be ready for the worst.
Important Questions
Q1: What is the message of Elizabeth Bishop in her poem, One Art?
Q2: Why, according to Elizabeth Bishop in One Art, should we practice losing things?
There is no doubt that losses cause panic, frustration, depression, and despondency. Whenever we have to face a loss, we feel shattered from within. One major reason for such feelings is the importance we attach to different things in our life. Another reason for the same may be the sense of not having an alternative. Elizabeth Bishop, however, believes that no loss is so great as to make life impossible.
Elizabeth Bishop's Philosophy about Loss
The poet believes that losses do not bring about disaster. Losing things and accepting the frustration of loss is an art. She thinks that, like many other forms of art, the art of losing can also be mastered. Being patient is a mantra for overcoming the fluster of the loss. Elizabeth Bishop suggests we begin with losing things of our everyday use. It is a kind of training in mastering the art of losing. The patience and tolerance we exhibit in accepting small losses strengthen us to face greater losses.
Autobiographical Element
One Art by Elizabeth Bishop contains an autobiographical element. The Poet lost her father when she was only an eight-month-old infant. Her mother could not stand the trauma and developed a mental illness. These were the losses she had to bear at an age when she did not know what a loss was. Her maternal grandparents took up the responsibility for her look after. However, her paternal relatives soon won her custody. Going away from her maternal grandparents was also a kind of loss. Elizabeth Bishop seems to have grown up with a sense of loss. She has enumerated some of her losses in this poem.
The Message of the Poem
The message of this poem is loud and clear. It teaches us to be patient in the face of loss. We should have a big heart. If we learn the art of losing, we will be able to defeat anxiety and frustration.
Here is an important article for you on The Huntsman by Edward Lowbury.